Here's another pic; notice that I'm not the only one who can't help staring!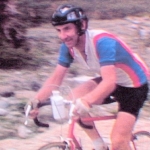 1975 Riding with the Diablo Wheelmen, Tom Ritchey, et al.
Strawberry frame built by Mark DiNucci, wheels built by, Rick Gill subsequently one of 7Eleven team wheel builders.
(Broke one spoke)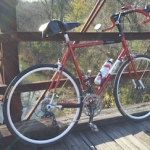 White A23 rims and DT hubs on my All-City are beautiful. Did I mention they roll and roll and roll… You have made me several sets of wheels and even at my weight, I have not had one problem after th…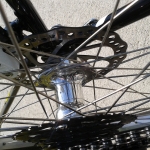 I had Mr. Young build me a pair of 29er wheels for my Trek Marlin. I am a bigger rider at 290 pounds and was breaking spokes on the wheels that came with it the Trek. I enjoy bike touring and camping.…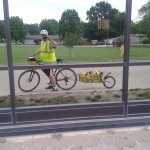 Me with my Trek Marlin with the set of wheels Mr. Young made.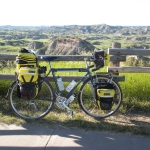 Bought a set of touring wheels from Joe, Velocity Dyad rims, Phil Wood hubs 40 hole front and rear.I wanted wheels I could count on, I'm not a small person and I carry around 40 pounds of gear.

I have…
Just recently went out on my newly built Joe Young wheels – DT Swiss hubs w 32 hole Velocity A23 rims – attached to my 2014 Roubaix SL4 Sport SRAM disc. Now I'm not a seasoned roadie, but there …